shaniasupersite.com

Shania Twain pays surprise visit to Ontario school

CTV News <--Click for video
September 19, 2014

Shania Twain surprises students at Sir Winston Churchill P.S. in Brampton, Ont., on Friday, Sept. 19, 2014.
Canadian singer Shania Twain paid a surprise visit to an elementary school west of Toronto on Friday to launch a program that helps underprivileged children achieve their potential in school.
The country music star was at Winston Churchill P.S. in Brampton, Ont., where she unveiled the GTA's first Shania Kids Can Clubhouse program.
Twain and partner charity Dilawri Foundation announced a donation of $400,000 to help 20 at-risk students get extra help at school.
Speaking to the students, Twain says she created the program with her own turbulent school years in mind.
As a child, the singer said she often went to class hungry and didn't have a lot of confidence.
Twain created the Shania Kids Can foundation to help provide support for less fortunate youth.
The first SKC Clubhouse opened at a school in Calgary.
With files from CTV Toronto's Naomi Parness
VIDEO
PICTURES
Shania with Brian Woodland (school board Public Relations)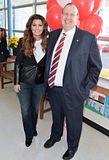 Shania with Ben Mulroney from "eTalk"