shaniasupersite.com

Shania Twain previews her new album Now: "There are a lot of conflicting emotions"
One of the world's bestselling artists talks about gearing up to release her first album in 15 years.
Official Charts
By Jack White
July 13, 2017

For Shania Twain fans, Life's About To Get Good.
The star is gearing up to release a new album - her first in 15 years - this September, and Official Charts (along with other journalists) was given a preview of what to expect from the collection at a showcase event in London.
Shania herself was in attendance to explain how the record, called Now, came together. "The running theme for me personally through the songwriting," she said, "is really about 'then' and 'now'. 'Then' being from the beginning of my life through all the ups and downs, and the peaks and valleys.
"Life's About To Get Good is all about the journey from sad to happy, and lost to found. The journey in my life is hopefully not over, but I'm enjoying living in the moment, living in the now more than I ever have."
Having gone more than a decade without releasing new music, Shania talked about the challenges she faced, during her time out of the spotlight, including the breakdown of her first marriage.
"I'm just relishing the whole experience of being able to have recorded again, to have the courage to put my voice back on something so permanent as a record. It's the most transparent expression of my experiences in life.
"It's not a divorce album that I think is maybe a little expected. Of course, there are some references to that low in my life but a lot of the references are really more overall, about a lot of the losses and the griefs from my life. And then there's the optimism, the gift that is the light at the end of the tunnel and woven through the album. There are a lot of conflicting emotions."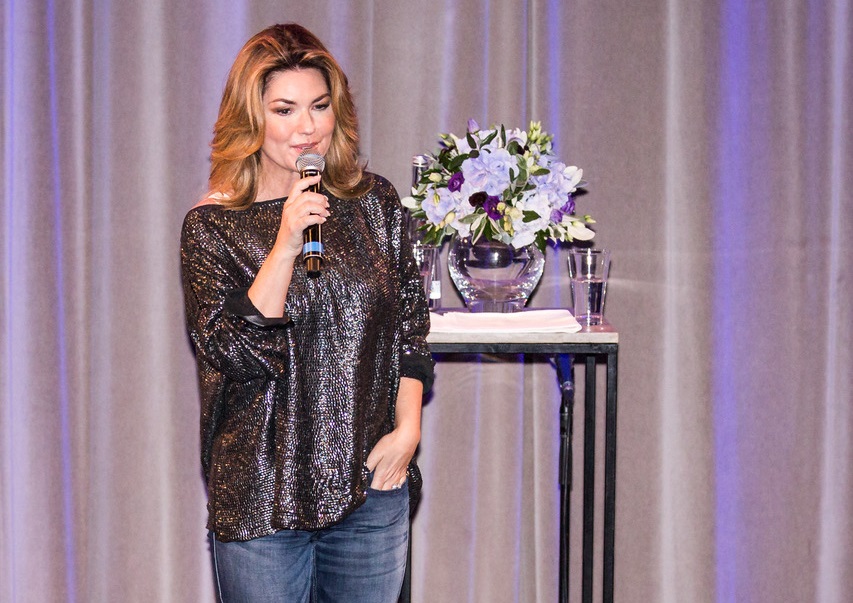 Shania speaking to journalists at BAFTA in London.
Shania, whose album Come On Over is the best-selling album ever worldwide by a female artist, also touched upon the vocal surgery that left her wondering if she would ever be able to sing again.
"I've had a lot of voice problems over many, many years and it's been a super long journey all the way back up. Songwriting is my favourite part about what I do, and there was a time I never thought I would sing again.
"But I never gave up the songwriting. I believed that maybe if I wasn't able to record my own music, that at least maybe somebody else would and my songs could live through other artists."
Thankfully, Shania has been able to return to singing, and she'll also return to the UK stage on September 10 for Radio 2 Live in Hyde Park. She's Still The One.
Shania Twain's fifth studio album Now is available on September 29. The single Life's About To Get Good is available now.
.